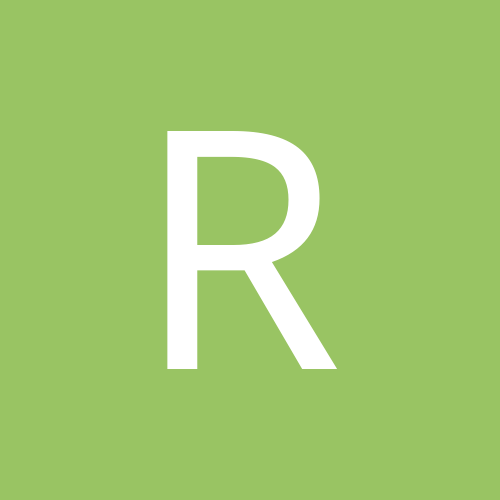 Content Count

38

Joined

Last visited
Community Reputation
0
Neutral
2007, give or take a year, Stafford and Calvin Johnson? Lost the first round of my playoff game when that duo put up almost 30 points against me in the last couple of minutes of their game.

16 team league, starting 2 RBs, 2WRs and a WR/TE flex and 3 bnechh spots. 6pts TDs, 1pt 10 yds rushing, 15 yds receiving with bonuses for 40+ yds tds. Dwayne Bowe went on the wire and I'm sitting at #1. Who would you drop? Lance Moore Denarius Moore BGE Dropping BGE leaves me with Forte, Steven Jackson, and Daryl Richardson. I'm torn between Lance and Denarius. Is there any hope for an Oakland receiver? Oh and is Reggie Bush going to take receptions away from Pettigrew? Thanks everyone.

Propane Grills? Parents want to spend around $350, so Webers are out. Ducane? What do they say about Kenmores or Char-Broil? Brinkman the crap? Thanks for the reply.

Sorry I missed your post. Thanks for the reply. I figured the Bal game would end up being Ray Rice, so I went Gaffney. Hoping you chose well.

WR2, PPR: All good matchups. Need one. Boldin v Ind - I'm reading that this matchup will be all Ray Rice Gaffney v NE - Worst pass defense in the league, I'm tempted MWTB@Jax - Has put 3 good weeks but so have the Jags vs WR Austin v NYG? - Ughh, a late game and is he good to go?

10-2 and locked into the playoffs (Wks 15-16) 10 team PPR The following are WRs I'm considering. I want to make sure my azz is covered in the playoffs. I'm about ready to bail on Thomas and may need to drop one more player to cover Desmond Bishop if he sits this weekend. Any input is, as always, much appreciated. Ranked last 4 wks; SOS -FFToday (3wks) Harry Douglas - @Hou, @CAR, Jac, @NO Austin Collie - @NE, @Bal, Ten, Hou David Nelson - Ten, @SD, Mia, Den Vincent Brown - @Jac, Buf, Bal, @Det Titus Young - @No, Min, @Oak, SD Denarius Moore - @Mia, @GB, Det,@KC Doug Baldwin - Phi, STL, @Chi, SF Jason Avant - @Sea, Mia, NYJ, @Dal Davone Bess - Oak, Phi, @Buf, @NE Johnny Knox - KC, @Den, Sea, @GB Gaffney - NYJ, NE, @NYG, Min ===== I'm liking Davone Bess and Gaffney for my final roster. Have been watching Douglas as well. I picked up Earl Bennett a month or so ago as his chemistry was developing with Cutler once he came back. Now with Cutler out and Knox's performance with Hanie, I don't know. Ford or Moore in Oak? So, I'm thinking of dropping Bennett and Thomas. What say you? Romo McCoy, Murray, Sproles (Flex) Welker, MWTB/Boldin (based on matchups) Jimmy Graham Bench: DMC, Daniel Thomas, Jacoby Ford, Earl Bennett, Gaffney

In my local no money autodraft schitz and giggles league, my tweaking of my draft list backfired on me. We start 2 RB, 3WR, WR/RB flex, WR/TE flex, and TE. I ended up drafting Rice, DMC, Forte, Mathews, Beanie, and Ben Tate. My WRs - MWTB, Boldin, Harvin, Garcon (Damn, dumped him early in the season), James Jones. Ended up opening up my entire RB stable on the trading block. Offered to trade Mathews or Beanie for a top 15 WR. I'd even consider McFadden or Rice for a reasonable offer. Ben Tate was also available to the Foster owner for an equivalent WR. Got back DeSean Williams for Ray Rice. Guy did not have much depth at WR. Countered with Mathews for Maclin. Rice would cost him Mike Williams. Never heard back.

Thanks for answering mine. PPR? Definitely go Moore. Tolbert vs Gibson a coin flip. I'd lean towards Gibson if you're PPR.

This league is a free autodraft among local friends. We start 2 RBs, 2 WRs, WR/RB flex, and WR/TE flex. I excluded DEF and kickers from my preranking and apparently got loaded up with RBs over WRs. I'm RB deep in a PPR and need real help with WR. I want to trade Ryan Mathews or Matt Forte for a WR1. I would like to Keep Forte over Mathews. Do you agree? I'll be left w/ DMac, Rice, Forte, Tate, & Beanie. Among those teams in need, I'm looking at Fitzgerald, VJAX, Maclin, Stevie Johnson, Meachem, White, BMarsh, or Nicks. I've already got Nelson and I think I'm happy with him. Leaning towards Fitz. Current WRs are MWilliams (TB), Nate Washington, Boldin, David Nelson, Harvin, Ford. What's your take rest of season for my targets? A trade feasible? Could also go Beanie for the likes of Julio or DeSean I guess. What do you think?

PPR, IDP Steamin' Piles 1. (12) Roddy White (Atl - WR) 2. (13) Pierre Thomas (NO - RB) 3. (36) Brandon Marshall (Mia - WR) 4. (37) Joe Flacco (Bal - QB) 5. (60) Jonathan Stewart (Car - RB) 6. (61) Justin Forsett (Sea - RB) 7. (84) Bernard Berrian (Min - WR) 8. (85) Dwayne Bowe (KC - WR) 9. (108) Santonio Holmes (NYJ - WR) 10. (109) Ricky Williams (Mia - RB) 11. (132) Yeremiah Bell (Mia - S) 12. (133) Zach Miller (Oak - TE) 13. (156) James Laurinaitis (StL - LB) 14. (157) Michael Bush (Oak - RB) 15. (180) Julian Edelman (NE - WR) 16. (181) Curtis Lofton (Atl - LB) 17. (204) David Buehler (Dal - K) Current roster is in my sig

Posted this on another bored: I did some digging last night and he has connected with Bowe before with a TD.....once. And a reply: I'll admit, I'm in a quandry. May bench him and flex with the likes of Starks or BMarsh. Guess I'll keep TJones in my lineup.

Damn global warming. When it snows in SD, you know we're all farked!

Would appreciate any help. (PPR) Dropped my kicker to pick up Dixon this week and now I need to pick one up. I should also probably look for QB help when Flacco faces NO. Please rank the following players for the 2 to boot to the WW. Keiland Williams - I hate the Rat and his carousel of RBs Michael Bush - Used him when DMC was out, but his future looks grim Zack Miller - plantar fascia. Ouch, it's been what 4 wks? or maybe, BMarsh? I'd be left with 3 WRs where I usually play my third at the flex. What say you?

My third round pick, but I'm rolling with Roddy, Bowe, and Holmes. Came this close to jettisoning him last week. I've been struggling with RBs. Just glad my league is PPR.

12th in a 12 teamer Roddy White Pierre Thomas Brandon Marshall Joe Flacco 8 QBs picked by the end of the second round and I've been struggling with RBs. Bowe and Holmes in the 8th & 9th. 7-5 and am in 4th place with 3rd highest points.