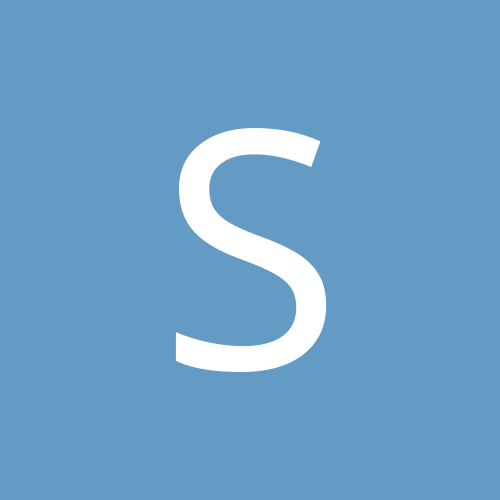 Content Count

99

Joined

Last visited
Community Reputation
0
Neutral
The closest I can get to an admission...

Thanks for the attempted help there Mike. I tried things out from home last night and everything went fine. I believe that the issue at work stems more from a firewall or some such than any problems with CC/DB. On a side note...the Dixie Devils, GameDay Geeks (GameDay Ritual) Champions from 2005, went on to a different league for the 2006 season. When the smoke cleared at the end of the year, the Devils had felled another opponent and taken the Championship of the Semi-Tough League with a 12 - 2 record. Now with both of those titles under my belt I've been invited to participate in a GDR Championship League and to chronicle things on their blog throughout the season (GDR Championship League Blog). The FAB starts in a little over 2 hours and I have my trusty Draft Buddy to help steer me along. Let's go Cthulhu Cadre!!!

Hey Mike, I haven't attempted to update things on my home computer as of yet but I'm suffering from some problems updating projections on my work computer. I've downloaded a fresh copy of the Compiler so I doubt that is the issue. Below are the top 15 QBs "straight out of the box" and then after the projections have been updated. Before update After update I've been using CC/DB for the past few years and this is the first time I've ever had any issues with it...suggestions?

Well it's in the second half of August and GDR still hasn't released any info on what has changed in the game or a new manul yet. They have not even opened up things to start creating leagues. Something tells me that it's a lost cause for this season...

SmoovJello replied to SmoovJello's topic in Draft Buddy

Definitive draft date has not yet been set, I'm awaiting a finalized vote on the subject. I can always wait and do the adjustments right before the draft based upon the update schedule. I'll just need to do the research ahead of time to identify which players are affected. Not likely. Several 3-4 LBs were identified as DEs for all of last year.

Hey Mike I'll be using CC/DB to run my draft this year but am trying to fend off an upcoming issue. I'm one of those evil Commissioners of an IDP League that limits the number of players that can be taken at different positions, therefor eit is important that positions here matchup with those of my FFB host (ESPN). Is there a way to change the position for specific players? ie: In CC/DB, Demarcus Ware is considered a LB but in ESPN he is a DE. This is the main area where there is a problem. Several players that play OLB in 3-4 defenses get labelled as DE in ESPN

I think those ahead of me have the right idea!

SmoovJello replied to Mike FF Today's topic in Draft Buddy

Another purchase for ya here Mike

Ya know, this sounds somewhat familiar. I used Compiler, Buddy, & Pal last year for the 3 leagues I was in. I managed to make it to the championship game in all three leagues coming out on top in 2 of them. One of them was even the FFT GameDay Ritual league against the likes of Mike and Wildman. I was lucky enough to get into the league with them to begin with and then was surprised that I could squeek out a win in the championship game.

Seeing as I believe that at least 3 teams weren't actually being managed by the end of the year, it's unlikely that you would be the only owner that wouldn't want to return. I wouldn't hold it against you if you didn't want to go through another season at GDR.

Only if he can avoid meeting Bubba in the big House!!! I may be a Skins fan but I occasionally find myself waiting for Taylor to do something else foolish

New Redskins are Introduced — Washington Post Yeah...pretty much backloaded contracts and restructuring when they start to get expensive

I know that some people were far from enamored with Gameday last year and was hoping to gauge the interest for team owners to return for another season. I figure this is the essential first step in the process and there would have to be further discussion as to whether or not to continue as a legacy.

As of right now, the East & North have definitely been decided with Mike MacG & I goin' to the playoffs. It's lookin' pretty good that DanSez will be taking the South unless he loses the game this week and Wildman can outscore him by 83 points to take the Fantasy Point lead in the division. The interesting division is the West! Tankslap & Roto are in one hell of a fight to take the division. Not only do they need to win their games this week but they also have to worry about scoring as many points as possible. With Total Fantasy Points being the main tie-breaker and only 3 points seperating them at the moment... Now we just have to see how they break out the opponents for the playoffs. Dixie Devils Leaside Lobsters Borg0805 Denver Destroyers or Eastside Geckos

We've got a few important games the next two weeks. East The Dixie Devils need to win one of the next two games (Athens Abyss & America's Team) to clinch the division I've taken the "Defense First" approach this year to a surprisingly good affect. The Stranglas and Carolina County Boyz need to win out and have the Devils lose out for a chance to take things. North * Leaside Lobsters @ Underdogs If the Lobsters win this week they clinch the division but a loss makes things SO much more interesting. It would then go to : * Underdogs @ Borg0805 * Leaside Lobsters @ All-Moons If they both win these games then it would then go to the miniscule difference between their Fantasy Points which currently stands at 12 points separating the two. South The Borg (vs. Bulldogs & Underdogs) needs to outlast the Abyss (vs. Devils & Titans) to make it to the playoffs West The Geckos, Destroyers, and Zemmis are all fighting it out with 8 - 4 records. A slight edge would go to the Destroyers as they face the two teams with the lowest FP totals (America's Team & Bloodhorses). The Geckos and Zemmis face each other this week and then matchup against two Eastern teams (Geckos vs Brawlers & Zemmis vs Boyz) the final week. ...and our attendance is going down???