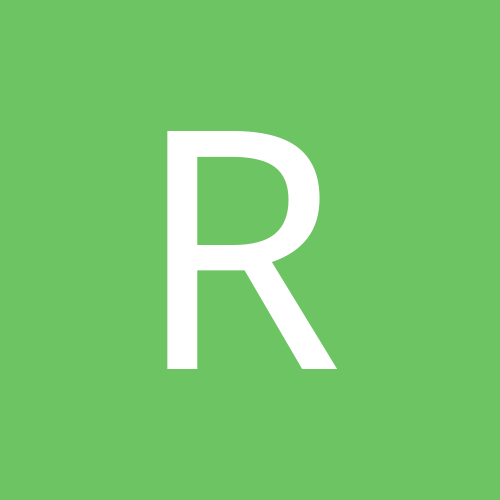 Content Count

6,364

Joined

Last visited

Days Won

3
Everything posted by Ray_T
well, if you're thinking about doing the trade, but not keen on the receiver, I'd at least shop him around to see if you can get a better player for him. I picked him up on the waiver wire for free in my league. maybe your better option is to counter and offer barlow and one of your bench receivers for a higher end player. or you can see if anyone in the league values the guy you've been offered and work out a 3 way trade. I personally like the idea of doing the two for one. its the stud players that win the draft for you most of the time.

well, there are a fair number of backs on the market. maybe they acquire one to back up gore. there is a logjam of RB's in tennessee, cleveland, and Atlanta and Chicago may be looking at trading one of their RB's. I guess whether they acquire someone to be a starter or to backup gore depends on how much faith they have in Gore. it seems reasonable that they would pick up another Running back just because of Gore's history of injury. If I was a betting man I'd say its almost guaranteed to happen.

okay the Barlow trade was just announced. he is a free agent, and my RB's are: LT Julius Jones Reggie Bush We start 2 RB's each week. with bush being a rooking and Julius Jones having a history of injury, I am thinking a 4th RB may not be a bad call for added security. My WR's are: Reggie Wayne Andre Johnson E. Wilford Matt Jones and Michael Clayton we start 3 WR's would you drop one of the WR's to pick him up? If I want him, I need to act fast, cuz I"m sure someone else would pick him up shortly if I dont. my situation in other areas of my team is solid and I dont want or need to make any change there. Let me know what you think

Hes right. Noone keeps 2 kickers on their roster unless it's a bye week. Get rid of one and pickup barlow (if he is available on waivers)

I'd rather have ronnie brown but if you can trade TO to get either of them, I'd be very surprised. if the guy is willing to settle for TO you should do it before Parcells benches him

if he accepts that deal hes pretty stupid. I guess it never hurts to make an offer I guess... unless he finds your offer to be insulting... then the price goes up for you.

I wouldnt make any of those deals... keeper league or not.

I'm on board with everyone here. Its almost worth it for Cadillac himself. and if you get TO on top.... do it. Then if you dont like TO, trade him to someone for a receiver you like.

well, Housh, is good, he went around the same time as kennison in my draft. if Kennison can repeat the season he had last year, he may be worth a shot too. As far as clayton goes... he went late in my draft... I got him in the last round. He's worth a gamble too. apparently he lost weight and came into camp in great shape. I havnt seen any reports since to say how hes done. but if drafting him, I'd also check to see how sims has looked in camp first. if He looks terrible, I'd pass on him.

It's also worth noting.... if the info you have on this chart is correct, the Jets are paying Barlow one hell of a lot of money, even if they arent paying the bonuses. I am thinking that the injury to Curtis Martin would have to be rather serious for them to make this deal. He's making way too much money to sit on the bench. I'd say the Jets must be pretty sure Barlow will start Most (if not all) of their games this season. I know the other Jets RB's looked Terrible so far in preseason, so I think as soon as barlow can memorize enough of the plays in the playbook he will be the #1. as for Martin, my guess is that he may be contemplating retirement or he may be gone for the season. I dont think they'd fork out this much cash otherwise.

Yes I look at lines. but it is worth noting that some backs can do it without one. Ricky williams ran behind a weak line that one year in miami and ran over a lot of defenders to get his yards. McGahee ran behind a weak line last year and put up respectable, but not outstanding numbers. and I agree, Edge wont be as good. but it would be still be interesting to see what he can do in arizona. I wouldnt rank him with the elites anymore because of it, but I think he'll put up numbers worthy of a starter.

well, at this point, I'd guess everyone is now drafting backups. I dont think you can lose by taking him now. He went in the 7th in our draft. and hes got more value than the average backup cuz if hes in the lineup and healthy, he may even be a starter for you. take him

well, I dont totally agree with you about the magazine I think every good drafter needs at least a couple. I use them as a tool just like any other. Each magazine has contacts with scouts & people within some organizations. some scouts have more info on some players than others will. Some contacts know more about what's going on behind closed doors within a team as well. I'd say that each magazine has info on one or two players that I wouldnt find anywhere else. That's not to say I'd go solely with any magazine, but reading these things is a part of the preparation you must do. the key is read what they say, do your research and decide if you agree. You also need to do your research. check scouting reports on young players considered to be on the 'CUSP' of a breakout year. find out what kind of character a player is known to have and the relative strengths and weaknesses of a coaching staff etc etc. for me these things are the 'tiebreakers'. Overall most fantasy mags rank players pretty close overall in terms of rankings. There will be differences on rookies, and 2nd year players expected to have a breakout year, but overall they arent too far from each other. when you find a discrepency in rankings, that's where you do your extra work to determine why that is and how much faith you should put into what you see. Let's face it. every publication ranks LT SA and LJ as the top 3. I value all of them pretty close to the same. I look at changes in the team such as KC's loss of Roaf to retirement and I decide to give LT the edge over LJ. Rocket science? Not at all. its just part of preparation. If you wanna win, do your research. that is #1. #2 is: pick where the value is. Never take a player at the end of a run. You want to be picking players at the start of a run. so if youre in round 2 and 15 RB's are off the board, you might be better to draft a receiver unless the league missed a top end RB that should have gone early. also, not rocket science.... just common sense. #3: in the first couple of rounds, ALWAYS go with the best talent regardless of need. a number of years ago, My first 3 draft picks were Marshall Faulk, Priest Holmes and LT. people asked why I picked LT cuz I didnt need any more RB's. (he just finished his rookie season so he wasnt a top 10 guy yet) My response: he was the most talented and provided the best value at the time. I never regretted that. LT blew the doors off that year, I traded Faulk at the deadline to acquire McNabb and a couple other players I had an excellent year.

I'd even go as far as to say that #3 overall is the best spot in the draft this year. I wouldnt trade down unless I got a LOT in return.

I agree. and Pennington will put more fear into opposing defenses than Alex Smith did last season. As such, the box wont be stacked as often against him when he runs the ball. Hes on a better team (cant get much worse than SF was last season) so I'd expect a decent year. 1000 yards isnt an unreasonable number. And if the O-Line has a good year, he may surprise all of us with something better. I picked him offa waivers last nite to be my #4 RB. for my purposes, he'll be just fine.

thanks for the input guys. I dropped wilford and picked him up. now, I'd still like opinions. We have no wait time for the waiver wire, so I still have the option to grab wilford and drop one of my other WR's if I change my mind.

well, from what I've heard Clayton came into camp 20 LB's lighter. Says hes in top shape. if this has happened, I wouldnt be surprised to see him take his #1 job back from the oft injured 34 year old Galloway. Especially if Galloway gets injured again. Can anyone confirm whether Clayton has looked good in camp so far? or can anyone confirm how good Wilford and matt Jones have looked?

I think you did awesome. Cadillac in the third is a total steal. I think you got good value in most all of your picks.

Just how many keepers are allowed in your league anyhow? and why would you allow one guy to get so many studs on one team. LJ I could see, cuz he unexpectedly took the job mid season, but LT and SA??? if he has LT, LJ, SA and Fitz as keepers there is no way the parity will be repaired for years. totally redrafting is obviously unfair, but I dont think it's unreasonable to reduce the number of keepers for future years. if this is a draft where you keep 4 or 5, that number is a little bit high. you can lower the keepers by 1 or 2 so that everyone keeps 3. this will keep the whining to a minimum and still preserve the order of the league.

looks okay, Solid at QB. Solid at RB. decent at WR. I dont think it's a championship team, but it's solid in most areas. but I wouldnt keep two TE's on my roster. If there are any QB's who are starters available on waivers I'd pick one up and drop one of your TE's. There is enough Depth at the TE position you can always get some value on the waiver wire for a bye week.

honestly I dont think this deal helps your team long term Ronnie brown is gonna be a monster. You dont give up guys like that in a keeper league. By this time next year, he will probably be considered one of the top 4 or 5 RB's in the league. you may have a slightly better team this year, but not good enough to make it worth this trade. Your team looks fine. I'd play out part of the season and see how the team performs before pulling the trigger on this kinda deal. This is the kind of deal you make when you get close to the deadline if you think you've got a chance to win it all. although honestly, I think you can get better value for what you are trading away. Especially if Ronnie brown comes out of the starting gate quickly.

Rivers wont affect LT's numbers. teams have usually keyed on the run against San Diego all along cuz LT is so dangerous. Rivers will only affect his numbers if he's so inept that the pass isnt a legitimate threat. He's not as good as Brees, but I think he's still good enough to keep defenses honest. and I think because Rivers is basically still a rookie, teams will blitz more, so LT becomes a better checkdown option for the passing game. Look for him on swing passes or screen plays. Him and Gates will tear defenses apart that way if teams stack the box against them.

Gonzo had a bad year last season. I picked him up in the 5th round of our keeper draft this year(each of us keeps 3) so this is the equivalent of the 8th round.(10 team league) if you think this is adequate, I'd expect you can wait until later to pick a TE. I'd wait until round 6 to Pick a TE

what he said. however, if the guy in the #2 slot or #3 slot offers you a package to move up in the drafting order, I'd strongly consider it. if you make a deal, This is what you do: 1) do not tell anyone who you intend to pick. if the guy picking at #2 wants LJ and you want LT, there is no point in him paying to get what he can already get for free. sSo your job is to make him think you might take his guy (if you can). if you dont tell him who you want, he may get nervous and might wanna make a deal. the official answer to who will you draft #1 just say 'I dont know yet..... ' or 'I havnt decided' 2) if you know you want LT, ask the guy at #2 who he would pick with the #1 overall. if he says LJ or SA, make the deal. it doesnt hurt you. The deal: trade the #1 overall for the #2 or #3 overall and exchange 2nd, 4th, and 6 th round picks. this way you pick earlier in 3 rounds and still get one of the big 3 RB's. if you do it this way, you cant hurt your team and may help it a bit. If noone wants to make a deal, just go ahead and take the RB of your choice and let the chips fall where they may.

this trade doesnt hurt you. LT is always good to have on a team. however, its worth noting that you could use a better receiver or an upgrade at QB more than you need a RB. You're strong there. I guess the bottom line is, your starting RB's are stronger, but you will lack the depth and backup players if someone gets hurt. Its a judgement call, but I feel you dont push yourself over the top without taking a chance. if Ronnie brown explodes, you can probably work a trade to help your depth in other positions.