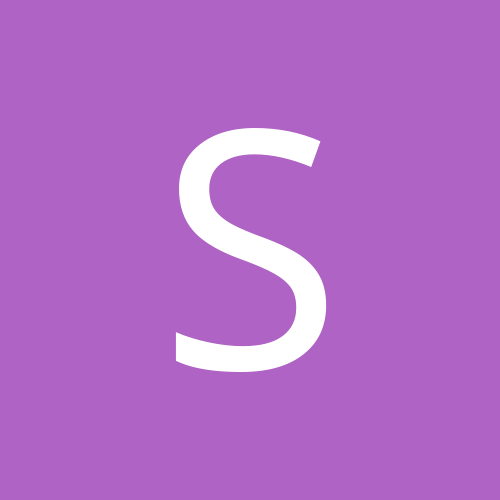 Content Count

586

Joined

Last visited
Community Reputation
35
Excellent
I'm wondering if KC doesn't address RB in the draft. Bryce Love is projecting as a 2nd to 3rd rounder, but I imagine he'd be a great fit for that offense. I think Damien Williams is capable, but nothing really special as an RB talent.

It's not all that simple. Eli has played his career in an era where 4000 passing yards in a season doesn't crack the top 10 in most years now. His stats are largely a product of his longevity. Not counting 2004 when he threw for about 1100 yards in 9 games played, he's finished in the top 5 in passing yards 3 times and outside the top 10 in 7 of his 14 full seasons. That's just not HOF level play in my book. Granted, the NFL hall of fame is really the Hall of good, but if Eli gets in, it becomes the Hall of above average. 2005 - 5th 2006 - 11th 2007 - 12th 2008 - 17th 2009 - 10th 2010 - 5th 2011 - 4th 2012 - 12th 2013 - 14th 2014 - 6th 2015 - 6th 2016 - 13th 2017 - 15th 2018 - 9th If you compare his career numbers to his HOF peers or lock HOF peers of his era... Peyton Manning 71,940 yards / 539 TD's / 96.5 QBR / 65.3 CPL% / .685 Win % Drew Brees 74,437 yards / 520 TD's / 97.7 QBR / 67.3 CPL% / .587 Win % Tom Brady 70,514 yards / 517 TD's / 97.6 QBR / 64.0 CPL% / .770 Win% Aaron Rodgers 42,944 yards / 338 TD's / 103.1 QBR / 64.8 CPL% / .629 Win % Ben Roethlisberger 56,194 yards / 363 TD's / 94.2 QBR / 64.4 CPL% / .670 Win % Kurt Warner 32.344 yards / 208 TD's / 93.7 QBR / 65.5 CPL% / .589 Win % Honestly I could easily keep Eli out of that group but for Kurt Warner. He was a very good QB but only really had 6 full seasons and 8 seasons over 10 games. But if I exclude him for comparison basis because he doesn't have the longevity to compare some of the career numbers, there's no way Eli belongs on that list. In particular his QBR, Win %, and completion percentage are significantly lower than anyone on that list. The only argument left is do you start giving out career longevity awards. Eli Manning 55,981 yards / 360 TD's / 84.1 QBR / 60.3 CPL% / .512 Win % Philip Rivers 54,656 yards / 374 TD's / 95.6 QBR / 64.5 CPL%/ .564 Win % You've got one QB with decent numbers across the board but no titles, and one with the yards and TD's but pretty average metrics and 2 SB titles. Do these guys stats really measure up to those players above? Eli's clearly don't without the titles. Rivers are closer, but he's got no rings to date. Honestly I hope neither gets in, but I'd put Rivers in over Eli. Sadly they'll likely both make it simply because they've played for so long.

I think it makes sense to ride him on more year. I think he could still be a good enough QB for NFL purposes but he's never going to be a top 10-15 guy. There's no way to replace him this year unless you're going to go up and get Haskins and that's going to take a lot of capital because this year's QB class is so weak. I just don't see any of the potential free agents a long term solution. The 2020 class will be much better with Tua, Hebert, and a number of other potential talents who could emerge https://www.12up.com/posts/6256687-2020-qb-draft-class-is-suddenly-insanely-stacked

I think it's Saints vs Pats. Saints only because home field advantage. I don't find them to be significantly better than the Bears or the Eagles but I think home field seals it. I think Dallas just isn't quite there on both sides of the ball and the Rams are completely lacking on the defensive side of the ball to go on the road and win. Seattle's a decent team as well but I don't see them winning in New Orleans. I could easily see Chicago losing in round 1. The eagles defense is getting players back in the secondary and nobody is really afraid of Mitchell. He still makes a lot of mistakes in the passing game. However the bears D is legit for sure and could carry them to the title game. But I just can't see a Mitchell led team beating a Brees led team in the NFC title game in the dome. On the other side, KC isn't quite the same with Hunt gone and I just trust NE in a winner take all match-up more than I would Mahomes and KC, even on the road. I'd throw the Chargers in the mix, but I think they lose week 1. For all the bluster about the "Championship Caliber" defense above, they are next to last in rushing yards per game and I think that going to Baltimore is the worst possible match-up for them. Houston won't win at NE and may not beat Indy if they continue to play conservative on offense, because that defense isn't as great as it's made out to be. I also think Baltimore would be the team most likely to KO the Pats if that match-up comes in to play as the Ravens D has always been tough on Brady and I'm not sure how the Pats D would handle that offense.

Apparently It's about a 50/50 shot to ever play effectively again, per the article... "From 2011 to 2015, 46 NFL players reported they had torn an Achilles tendon; 24 of them never played again professionally or retired shortly after." https://www.ozy.com/the-huddle/the-achilles-heel-of-pro-footballers-literally/76835 Demaryius Thomas, Terrell Suggs, and Crabtree are all players they list as examples who made it back. Beanie Wells, Vick Ballard, Fred Davis (Redskins tight end) and former Jets top cornerback prospect Dee Milliner are players who never did.

6 at minimum per league rules but I'd say 8 would be a better guess.

The league I run is on CBS for all the reasons mentioned above. To the poster who was losing his current news feeds, there's an option to pin posts to the top, so they stay there. I'll do that with my messages to the league while they are relevant so they don't get bumped down. I play on an MFL league and while it has all the flexibility and customizations, it's like going back to DOS to manipulate a PC. Everything seems buried in layers of menus and it's frustrating to use in general especially for FAAB waiver claims. While it will do anything you ask of it, it seems really cumbersome and outdated in terms of interface. I will say the mobile app is much better than the actual web interface. If you are in a low stakes / more for fun type league, ESPN is the way to go as it's free and it's got solid web and mobile interface. NFL and Yahoo are definitely behind ESPN for the free sites.

Alex Collins & Marquis Goodwin. Collins I'm not sure what happened. It still seems logical that he should have had an RB2 type year. However it should have been obvious Goodwin is still more track star than football player on receiver so that pick was just dumb by me.

I think the Saints run D is a product of their offense getting big leads, not because they are really good, but that could happen again in this game.

It looks like Mitchell is out again this week and Daniel did target Burton 7 times last week so maybe a better week for Burton now?

I think the Tenn game with Gordon out is the blueprint for Eckler's usage. He was the primary back in that game and had 19 touches. Jackson had 3. I think Jackson got more work last week because they were blowing zona out. I expect that this week it will be mostly Eckler in a huge game vs Pitt. I do think he'll pick up a few touches and would have value if Eckler were to get injured, but I think the gameplan will be for Eckler to carry the load.

I've got the same decision to make regarding my starter this week as I have both Smith and Burton and I'm tired of Burton's lame stat lines when he doesn't score. While I was impressed with what Smith can do as a receiver, he's still not a great blocker and doesn't seem to be fully involved in the offense sometimes. The problem with Burton is that Mitchell doesn't seem to connect with him and you have Shaheen coming back into the mix at some point. I've been back and forth on which one to start this week. I'm leaning towards Smith because he seems more likely to score TD's than Burton at this point and Burton's 4-35 stat line isn't much more than Smith's 2-25 if there aren't TD's involved so there's not much to be lost by gambling on Smith getting a TD.

To the point of Zona's run defense, Gordon/Eckler combined got 35 points against that defense last week. In addition, Zona's bad offense ensures that the game script will always keep the running game involved. They aren't going to run away from anyone. New Orleans is the 3rd toughest defense vs the running back position. Now in PPR Zeke will still get his, but there's a very real possibility that he's neutralized as a runner both by the Saints defense and by a game script where NO gets way out in front. I'd say if you feel good about your matchup and just need steady points, I'd stick with Zeke, especially in PPR format. If you need a Homerun play from the RB I think Jones has a higher ceiling this week.

Win and In, Lose and it's probably down to a total points race with 4 teams currently separated by 15 points. I lost Gordon, but fortunately had Eckler. Get Tyreek back this week and have Nick Chubb as well. Opponent has Kareem Hunt and Gronk as his big guns. Also has Titans DST on a sweet matchup with the Jets. It's going to be a nail-biter.

I'd be pretty tempted to take Indy's underrated D up against a Jags team without Fournette, a new QB, and that just fired their OC. Plus you have to question how hard they'll play at this point.