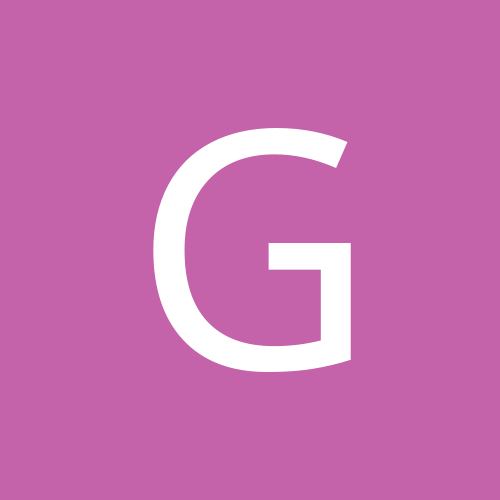 Content Count

234

Joined

Last visited
Community Reputation
0
Neutral
I've got Engram stashed on IR for all three of my teams.

For 2008, I would take Selvin Young. Both guys will catch around the same number of passes and score around the same number of touchdowns, I think, but Young will rush for more yards playing in a better offense. However for 2009 and beyond, I would say Matt Forte. I really liked him as a draft prospect, he can do it all other than be a home run threat (but that's overrated), and think he's a great fit for the Bears and Soldier Field - they just need to complete rebuilding their offensive line. Young, it's a guess how healthy he'll stay for his career and if Shanahan could draft a runningback early next year.

Brandon Jackson is terrible at pass protection and isn't anywhere near the effective slasher that Grant is, the two aren't even in the same league. Anyone buying this didn't buy Grant in the first place, and those crowing about it now are sadly trying to find support for their own assumptions. Meanwhile missing out on a great fantasy back, even if he carries the ball 280 times or so, until they'll impishly come around next year with their tails between their legs.

Something to consider is that Jim Irsay has spent countless millions from his own pocket in bonus money, investing in his team to make it the national draw it is today. And that the Colts were previously one of the worst teams in the league in terms of revenue generated from their home stadium because of the RCA Dome.

I wouldn't expect 1200 and 12 from Harrison like in previous years, but Harrison will produce more than what you're predicting. Don't believe the nonsense that is rampant this summer of Harrison being done. He suffered a freak injury last year, and the year before still produced despite arm and wrist injuries all year. The idiot media makes up stories about the Colts, and as usual, fall flat on the face of their thick, empty skulls - in this case, every time Harrison looks fine as he runs a route in the preseason. Now I don't think Harrison will be with the Colts next year, unless he and his agent agree to restructure his contract by a good deal, but he's in it this year for one more ring. So keeper-wise, Cotchery is probably the better option, although he needs Favre to stick around for a few years.

I scratch off Chambers immediately. No thanks. Bowe is good, but the other three receivers have better situations in their respective passing games. Pick one of the remaining three in Cotchery, Holmes, and Jennings imo. Whichever one you like the most, all three are among the best young receivers in the league.

I'm not fond of Willie Parker, but that's a nice job. I like the late round RB fliers, can't hurt to try and hope you hit.

I'd keep Barber and Portis. If you want to take more of a jackpot risk, take AJ over Wayne. AJ has the potential to have the best WR season after Moss. Keyword potential. But if you want the more sure thing, Wayne is your guy. He's the real deal. Either is a good pick, obviously.

That's not crazy at all, I don't think. Cotchery is far and away the best receiving option with the Jets, he leads by a mile. And now he has an actual quarterback. Harrison on the other hand, well obviously you know the case. But both could very well end up with very similar seasons, ~80 catches, 1000 yards, 8 touchdowns, so I don't think I would have one rated 20 spots higher than the other, unless maybe this were a keeper league in question.

Don't get overexcited about the preseason.

As a Ryan Grant owner, I doubt I'll spend a late round pick for his handcuff. Brandon Jackson is terrible in pass protection and isn't a slasher, so if Grant were to go down, I would expect something close to a 50/50 share of the workload between Jackson and veteran Vernand Morency. Not worth it for a handcuff, I don't think.

Anderson, Gary, Droughns, and both Bells aren't that good. That's why they didn't stick, they're average at best. Yet Shanahan turned them into single season fantasy studs. He had a franchise back in Portis, who he stuck with until he traded him to get Champ Bailey and a 2nd round pick.

Give me a break. It amazes me how many people want to ###### at Shanahan, even if it disregards common sense. The smart thing is to conserve Selvin Young for the regular season. Neither he nor any other starting runningback should get double-digit carries in any preseason game. Only Wade Phillips, moron that he is, let Marion Barber carry it 13 times today. Last year, Shanahan rode Travis Henry until he got injured, then Selvin Young until he got injured, then Andre Hall, then back to Henry and Young when they got healthy. It's not rocket science to figure out, fantasy owners need to stop crying. I'm sure a good part of them are the same idiots who drafted Mike Bell last year and probably did the same with Ryan Torian this year, get a clue first and know who it is that you're drafting before bitching it out on Shanahan as though it's his fault the kid isn't as special as you deludingly think he is. The hype for Andre Hall is already beginning btw, it's amazing.

http://www.pro-football-reference.com/players/J/JoneTh00.htm The last three years, Jones has averaged over 300 carries per season. If you want to include 2005, and not calculate formulated carries but touches, Jones has averaged 326.5 touches per season for the last 4 years. Now of course that's not the portent of doom that a season of 370 carries is, there's no guarantee something will happen - especially as relative inactivity in his earlier years could have granted Jones "fresher" legs than other backs - but who knows if age and workload don't creep on him like it did for say Rudi Johnson. Not that I'm using Rudi as a specific comparison, just a noteworthy example. Even if Jones turned 30 this month, and Rudi isn't 29 years old until October. In Rudi's case, even though his first two years were also inactive, he averaged 346.33 carries per and 366.67 touches per from '04 to '06. That's a more hefty workload to be dealing with in comparison, especially as Jones is more of a slasher and played in the NFC for so long so he hasn't taken the same amount of punishment that Rudi has. Just something to keep an eye on. There's no argument that Graham, although only a year-and-a-half younger, has fresher legs than Thomas Jones though.

So basically, is it worth it to: 1. Trade your 1st and degrade your 3rd to a 6th round pick for AD? 2. You also get draft sooner/later as compared to than before. Hmm, not sure. That 3rd round pick is very important, because who you draft with that pick could be kept as your 1st round pick next year - as the AD owner can certainly attest. You can't keep your 1st round pick this year, so is the difference from AD to Barber or Portis worth it? Assuming Barber or Portis aren't kept ... any ideas who the top 7 players on the board will be? That is, who was a 1st or 2nd round pick last year that can't be kept this year? Not to mention this is a PPR league, which means in as 12-teamer that you could draft a great WR1 or RB2 remaining on the board with 3.07.