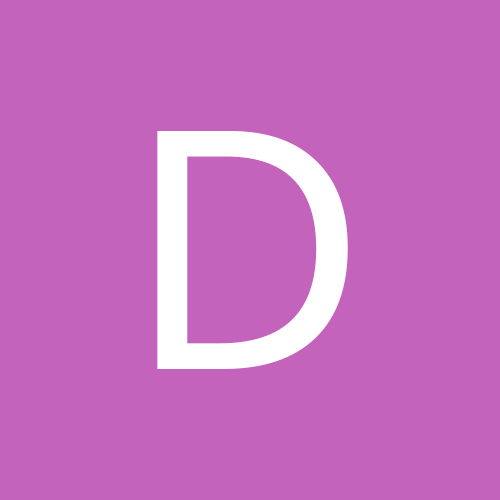 Content Count

603

Joined

Last visited
Community Reputation
8
Neutral
Awesome input guys. I knew I'd get good info and evals on the rooks as I don't follow college ball much. I've checked other boards over the years and for me at least I get the best fantasy help from the people that post here on the board. I've been playing FF since 1988, yeah I'm gettin' long in the tooth too LOL, and I value the opinions,advice,evals,info of everyone here more than any board I've been to. It's because of you guys and the FFToday's staff that make this the go to site for football period. Thanks for all your posts they are greatly appreciated.

I think you guys all made valid points on Diggs..Yes, he's a diva and wants to be the guy so he can pound his chest. Now, was his health issues & missed games in Minny a result of being a diva/whiner or will he.stay relatively healthy now that he's to be.the WR1 ????? He's talented and young but as been said here I don't loo fir a big boost in his production unless Allen throws more, which I doubt happens. Since he is the #1 guy then is he gona go off if Brown, the young TE (can't remember the name) who will be better this year and the remaining ig guys gets targets and he doesn't? Time will tell but I hope he's notalking locker room distraction.

I think you're spot on KOPY on these TE's. I'm especially liking.Dawson.Knox. I think he's.gonna have a.good year. .I like several of these guys to have a decent.fantasy impact this year. As I had agreed a little early on.the rookies but all you.guys have provided really good info & insight on the incoming players Thanks.for your posts. Please keep your evaluations, info, insight and whatever else you feel like. Your posts & opinions are important to me as I'm sure they are to others. Great job!.

Don't think a lot of people were expecting the outcome.of this.game..I didn't think.the Ravens were going to lose to the Titans, whov've been playing good at.the right time

Quite true but it looks like he could have a pretty bright future and could be a great NFL QB. So,maybe one day they'll be calling him St. Patrick.

Considering how things went for us the last 5 games I was a little nervous at the half. Run game and defense in the playoffs rang true again in this game. The bye week helped the D get a little healthier and we needed that and will need that to keep winning. Bosa has proved why he was the #2 pick and Shanahan has proved he's the right head coach for the 49ers. Whill John Lynch was a great player he's proved he can be a good GM. I'm proud of the group of people we have in place now in this franchise and after going 4-12 last year it's gratifying o see.the way things have turned around.this year. So, congrats to the 49ers on their win over the Vikings and I'm looking forward to the NFC Championship game wether we play the Seahawks or the Packers as my beloved 49ers go IN SEARCH OF..... Lombardi Trophy #6

I'm a 49ers fan and HOPE we get to the NFLC title game..I'm a big Mahomes.fan too and.would like to see.this young phenominal QB win the AFC title. Of course if my niners GET to the SB I would unfortunately have to root again st Patrick. Still.I think.he's gonna win multiple SB rings

It is difficult to assess rookies right now but I'm just kinda interested in seeing who the rookies are because I don't follow college ball much. I'm also interested in defensive players as.well as I'll pRobby join some IDP leagues this year. I know rookie Def. Guys aren't too dependable for fantasy scoring but if you guys know some that are worthy of fantasy consideration that's good. Yeah, it's early but I do so much appreciate the input you guys offer here. Thanks.

I agree, too many TE's. Of course your league scoring ssystem and.league roster.setup could play in to it. But as far as TE's are concerned I'd stay with KELCE, KITTLE, and ERTZ. (possibly). Goedert.could hinder production next year.

Yeah, it may be a bit early but a knew there where guys here who.followed abd knew college.ball. A stud player in college could get drafted to a suck team and may not get.used right otlr at all.thus hindering their development. I feel you guys have very good knowledge & insight on college guys which is why I wanted your opinions and started this thread. You guys know the players that are flying under the radar otlr sleepers no one's thinking about. So, you guys opinions, info.&.insight are.important to me, and I'm sure.others as well, to help me evaluate players for the upcoming NF L and which players I'd like to target for fantasy. So feel free posting when and.what you want, it won't go unoticed and will be appreciated as well..Thanks to all who posted so far and keep coming back during the offesason.

JROKH-. thanks for your informative input. Sounds like they could be first rounders. I recognize the Etienne name now. So.we know how rb's lately have.been taken.after the 1st round but Taylor should be a first rounder. Juedy should go high, maybe he could have success like AJ BROWN. I'm looking forward to researching.these guys and maybe finding some gems. Once again, thank you for you insight & input.

Sorry for interrupting the playoffs but wanted to get you guys opinions on which incoming rookies are worthy of fantasy rosters, whether it's redraft, keeper, or dynasty.I know about Joe Burrow & Jonathan Taylor buy after those 2 don't know who else that'll be good ballers. So I thought that some of you guys who follow college football could provide some good insight with your knowledge of some college players you think are worth drafting. Maybe you could list some blue chip guys, that Mel Kiper will tout(LOL) with your opinions and some not so known guys who you think will have a chance of being good nfl & fantasy stars. I know, hard to project guys fantasy future not knowing what team they'll be on but I'd just like to get you guys thoughts & opinions on what rookies you like coming into the league in 2020. Thanks for all your input and enjoy the playoffs & Superbowl.

Congrats to ya. I thankfully had all those guys, except Kamara, did good for me..Luckily, I was able to jump on Perriman during his hot streak. One.other guys I got early that really helped me was WR AJ Brown. Pretty good rookie year for him..Hope he continues next year.

All I can say is everytime we play the Seahawks it's not an easy game for us..Russell Wilson usually gives us fits with his scrambling, which he's good at,.and usually ends.up in big.plays or.a.score. 13-0 halftime and we.get.the ball..I thought we'd go right down.and.score..Wrong..Seattle mover the ball and.started.scoring. Luckily for us we were able to answer. Then.a couple of minutes left and I thought here we go again..We're wnning and we're going to lose again in the final 2 mins. Whether it was PI or not is moot..Calls, bad & good, so it.happens to both teams and I have learned to live with it. It was definitely heart.attack mode for me when Seattle was near the goal line. Didn't matter how much time was.left,.just felt they would score. The delay.of game was a BOON to us and then.for Greenlawn ton them inches short of the goalline was a miracle. Our last 5 games.have.been.decided in the last couple of minutes and by no more than 3 pts. We lost 2.but won 3.of those. Geez, Niners,.that's too much for this 68 y.o. guy, LOL I already have heart trouble. In the end.we.got home field thru the playoffs and we definitely need it..Hopefully we'll get a.few of our defense guys back who have been hurt..Our Def. needs to be.strong if we want to go deep in the playoffs. I'm hoping the Eagles beat.Seattle as.I"d feel better about facing them than Seattle. Still, we're in the show.and.I'll be cheering on my 49ers all the way. GO NINERS!!!!!! s

Yeah if Hunt goes to another team and starts he could be top 10 next year.