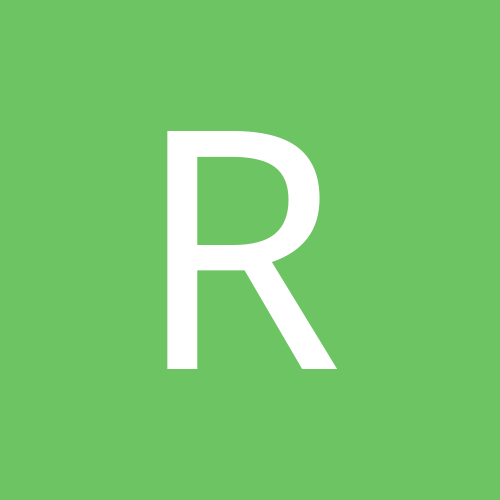 Content Count

6,412

Joined

Last visited

Days Won

3
Everything posted by Ray_T
hes an underrated QB to be sure. ever since haviing the injury problems at the start of his career nobody has given him any love.

I actually think Matt Stafford is a good buy this year. This may be the best group of WR's hes had since megatron's days and he has a stud TE. 2 capable RB's if you look last year, he was on pace for close to 5000 yards when he got hurt. Yes I acknowledge some of the tougher games were in the latter half of the season, but I think he was headed for at least 4500 yards. The other factor that makes this interesting is the fact that the defense has been leaky. that generally means the team is more likely to have a need to throw the ball late in games. (or at the least not take the foot off the gas when winning the game) that combination usually leads to good QB stats. I wouldnt be surprised if he has the best or second best season of his career statistically.

yes, there is more than one strain of the virus. but if you catch it once, you will have a better immunity towards the other strains, so the symptoms for those should be more mild. no guarantees of course. especially for the immune compromised.

there was a time when the anthem was not played before games. my understanding (someone correct me if I am wrong) is that they started playing the anthem at the start of games because they were paid by the US military to do so. it was a ploy by the army to make the population more patriotic and more likely to join the military. if this is true, and the league still is paid to play the anthem, then the anthem will continue to play before games and this option is off the table.

https://ca.sports.yahoo.com/news/antonio-brown-pleads-no-contest-in-truck-driver-battery-receives-2-years-probation-183125465.html

i am wondering if he will ever play in the NFL again. I think probably not.

fair comments TBay. possibly correct. we dont have enough info to verify the key details. from what i can tell, no contract was offered to Kap from anyone. at least not in writing. what we dont know iis if verbal inquiries were made

if he sits out this year he is only hurtiing himself. he has had 3 seasons. 2 were a waste as he was iinjured and not as effective third year was impressive, but he still got dinged up and missed time near the end. the durability issue makes signing him a major risk factor for any team. even if he plays this year and has a good year, hes still been injured nearly as often as hes been healthy over the term of the contract. the smart move by the team is to franchise him to guarantee no long term risk in the event of another major injury. obviously Cook knows this, and does not want it, so hes trying to force their hand early. maybe Minny can trade him, but the team trading for him has to be willing to pay him. I suspect the market isnt that large for his services given the situation

I dont think he was pandering. its actually very typical. in real life people dont hire workers who are overqualified for a job. why? 1) a better job comes up and they leave 2) if a person feels the job they are too good to be doing a job, a bad attitude can creep in and cause problems in the workplace. this is especially relevant in the Kap situation. if he felt he deserved starter money or was too good to be sitting on the bench will he become a problem? if he is unwilling to accept his role as a backup are you doing him a favor by hiring him? based on this alone, I believe Carrol was being honest about his reasons for not signing him.

well, the stats do not surprise me. typically the QB and RB stats reflect the fortunes of the team, and that San Fran team was AWFUL. they had lost many from the once good o line to injury and retirement. and the defense was terrible. typically in qb's the stat you see go bad when playing on a bad team is INT. The QB tries to play catch up and takes more chances with the ball than they otherwise would in an effort to catch up. yardage is often bad in this scenario too. especially if the defense is bad. this is because the other team can sustain long drives against you to keep your offense off the field. the stats you showed have him ranked about #20 (give or take) on a 1-10 team with a terrible defense that's actually pretty good. it iis also worth noting that a running qb usually forfeits a certain amount of passing yards to gain extra yards on the ground. if you add run yardage to his pass yardage, the totals likely bring him to the middle of the pack. that being said, i am not claiming he was an all star. I remember getting criticized way back after his super bowl year for saying hes not as good as everyone said. I stand by that analysis, but i also say he wasnt as bad as what everyone thought after that. I do beliieve he was good enough to be a low end starter or top notch backup. maybe he still is.... but its hard to say as hes been away from football long enough that I wouldnt hang my hat on that statement. Running QB's tend to have shorter careers because they take way more hits. he is no exception to that rule.

i dont think he left SF because he wanted more money. I think he left because he was unhappy with the organization. that being said, we dont know all of the details here as many of the details have not been made public. However, like it or not, the way I explained it is how it looks to his supporters, and many outside of the united states. the reason it looks like he got blackballed is because he went from being a starter who left his job to a guy not fit to even be a backup qb. what we dont know, is whether he would have accepted an offer to be a backup. maybe he was asked and turned it down verbally. as no written offer was sent it is possible that this was the case. I have to believe if a written offer of contract to be a backup was offered and rejected, Kap would have had absolutely no case in the civil suit he filed. this makes me think the league is not as innocent as they claimed to be. if a written offer of a contract was sent to him with the thought he could be a backup, Kap would have had absolutely no claim to make and no legal leg to stand on. this is why it feels like he was blackballed. like I said, it is possible the offer was made verbally, but good luck in proving that in a court of law. while i do agree, when you protest, you do open yoursellf up to criticism, stigma and whatever. thats fine. i would argue there are lots of other players who have protested in various ways and not been punished like Kap was. so I do think this was at least somewhat politically motovated. either way, it looked how it looked. a peaceful protest shut down. now the violent protests are here. shut them down with force, and the protests will ramp up, get more violent over time. That is the way of things. over history, when peaceful protests are shut down, the violent ones start up. this looks like the natural progression of things. as people we can support peaceful change or we can waiit for the violence to come as it eventually will. I dont know about you, but I'd rather avoid the violent option. I hope you can agree on that at least.

on this we agree. if Kap had gone to one knee for the coin flip instead of the anthem, nobody would have noticed or cared. but he did it during the anthem and everyone got upset. But it did get people talking about the issue. so from that perspective, he did achieve what he wanted to achieve. he brought attention to the issue. and honestly, I'd prefer that kind of protest to the violent protests we have now. but I'd argue if he wouldnt have been shut out and blackballed by the league and if people would have made a legitimate attempt to solve the issue when he raised it, we might not be having violent protests today. over the years, one constant has existed. when peaceful protest fails, violent protest begins. I wish this statement was false, but over history, it has been proven to be true.

lets be clear, the rookie deal would remain in place. he is wanting an extension. to my knowledge teams dont have the ability to void rookie deals to give players a bigger payday early. otherwise people would always hold out after their first big year to get an early payday. the NFL can do themselves a favor and make a rule that you cannot negotiate extensions to the rookie deal until halfway through the final year of their deal. then you wont see players holding out before said rookie deal is done.

yeah, his kids are starving

is that what hes actually asking? 15 mil? seems like a lot. hes only had one good season. does he not realize he may be jumping the gun?

https://www.nfl.com/news/devonta-freeman-willing-to-sit-out-2020-season-over-contract-desires not a bright move on his part. I think he will sit the rest of his career. def should have taken the Seahawks offer.

just another moron. move on.

This situation is only going to get worse. America had Kapernick, a peaceful protester and america snubbed their nose at him, embarrased him, the NFL took his job away. Now another 'incident' happens. guess what. lots of people are thinking.... the peaceful protest wont work. It didnt before. it wont now. so they try violence. this is the natural progression of things. when peaceful protest fails, violent protest usually comes shortly thereafter. America has nobody to blame but themselves on this one.

https://www.nfl.com/news/nfl-updates-language-on-4th-and-15-proposal-taking-out-trailing-requirement

good teams have an advantage for almost every rule. that is why they are good teams. the chiefs may be able to convert up to 50% of their 4th and 15's if they tried em. maybe more, but that isnt Andy Reid's style. I could see teams doing more no huddle offenses to keep tired Defenses from subbing in and out when they feel a 4th and 15 can be done after scoring a TD on a long drive. That would be good strategy. also good for the game. faster gameplay wiith less time between snaps of the football is generally good for TV as well. The NFL knows it too.

well, I think the rule is designed that way. there is an incentive to not do it unless necessary. This way its just another option for a hail mary to tie the game. certainly the option should be there for anyone at any time, but the odds are good that most teams wont try unless they absolutely need to. I do not think a rule like this hurts the game.

I actually dont think Dak is a great QB. he is a decent QB playing in a great situation. that great situation would mean: 1) top 3 O-line 2) a stud RB who is good enough that teams actually fear what happens if they go after the QB and get burned by a run. 3) a stud WR I truly think if you put Dak in Cincy last year, he would have crashed and burned. I was actually surprised cincy benched Dalton. his stats were actually ok. and considering the O line was in shambles and the Defense was a mess and Daltons receiivers were hurt more than they were healthy I felt it was a result that was very good given the situation. I do think Dalton is a legit threat to Dak's job if he underperforms, and can easily step in if Dak demands to be paid like a top 3 QB. this is a big time insurance policy.

Looking at the record isnt necessarily the fairest comparison. Pittsburgh is a very good organization and the Steelers have been a very good team (with or without Rothlisberger) Tampa has not. certainly Winston has been a part of that, but I'd argue up until last season, they have not had great coaching, and the team as a whole just hasnt been that good. I'm not defending Winston. I'm just saying we are not comparing apples to apples in the method we are using to compare.

Either here, or New England. how many other spots are available?

or perhaps a low base salary with lots of incentives. this way if he plays the team wins and he wins. if he sits, no cost to the team.