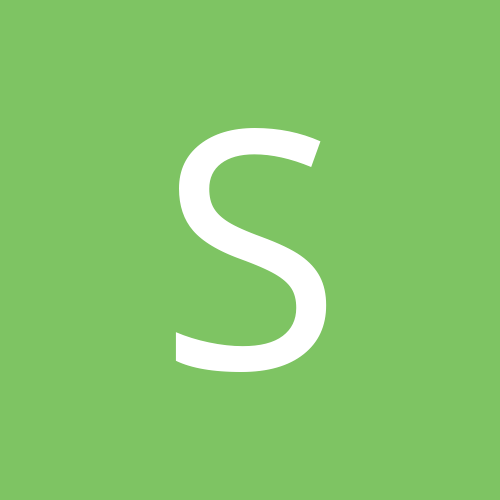 Content Count

120

Joined

Last visited
Community Reputation
1
Neutral
Antonio Brown (ankle) remained sidelined for Thursday's practice. Well I guess this makes it an easier decision on Sutton for tonight, can't roll the dice AB gets in a practice tomorrow and or even plays on Sunday if he did. Guess gotta go with the player I know is active tonight. Plus with a tweaked ankle, even if AB did play Sunday, I think TB gets out to a big lead and probably won't need to use AB much and may rest him later in second half anyway.

Yeah I just saw that too unfortunately. Well if he sits out again tomorrow, that makes it a much easier decision; if he practices in full still a bit or a decision.

16 team 1/2 point PPR league. Need two of this group to play alongside Ridley as my 3 starting WR's Which other 2 from below would you go with? Thanks. Marquise Brown vs. Cinci Courtland Sutton (TNF calling for rain and winds) @ Browns Antonio Brown vs. Chicago

16 team 1/2 point PPR league. Sutton is questionable (but I think playing) @ Pittsburgh and the question with Sanders (@ Carolina) as always under Siriani is if he will touch the ball 10 times. Who would you go with? Thanks and good luck this weekend!

Trying to decide between Courtland Sutton (@ Pittsburgh), Samaje Perine (vs. GB), or Miles Sanders (@ Carolina) for the Flex spot in a deep 16 team, 1/2 pt PPR league. Obviously I would have gone with Ridley to go along with Marquise Brown and Antonio Brown but now down to these three as the other options unfortunately. Bridgewater appears to be in line to start for Denver but right now I am kind of leaning towards Perine, as tough as that is to say, but he should at least get 10-15 carries, maybe a catch or two and should get any GL work. Looking for your pick and any thoughts. Thanks & good luck this week!

I am obviously going with Ekeler as my main RB and need to decide between Sanders and Harris at the 2nd RB spot. 16 team league, 1/2 pt ppr, 6 pts rushing and or receiving TD and bonus at 75 yards combined rushing/receiving and then 1 pt every 25 yards after. Harris @ home vs. NO Sanders @ Dal (MNF) Which would you roll with? Thanks and good luck!

1 needs to be a RB and just saw AB now on the Cover list.

16 team 1/2 point PPR League. Start 2 RB's, 2 WR's and a Flex. Right now I am going with Ekeler at my 1 RB and Sutton and Ridley as my two WR's. Please choose two out of this group as my second RB and my Flex (so two total out of those 4). Also which K for the weekend too? Thanks and good luck this weekend! Miles Sanders @ Dal (MNF) Damien Harris vs. NO Marquise Brown @ Det Antonio Brown @ Rams Kicker Tristan Vizcaino @ KC Jason Sanders @ Raiders

I think Najee Harris could slip into this group, especially if they really do use him in the passing game.

Yeah 16 teams is pretty challenging for sure but we've had it as 16 for the better part of going on season 31 now. Right now I think I would probably go Taylor (or Adams if there but expect him to be gone by 10) and that's with me being from Cle and a huge Browns and Chubb fan. Thinking if no Chubb at 10 pick, maybe grabbing Hunt in 3rd or 4th if he's there as I think he will put up 80% of what Chubb would over the same 17 game season. Barkely is probably in that mix too but just rather someone else take him before or even right after me. Now if he's there in the 2nd at 23rd pick, that's another story but also won't happen. Would listen to any other takes as well. Thanks!

I am the 10th pick in a 16 team 1/2 point PPR league (no keepers) with a snake draft. Who would you go if the options are below and in what order? Chubb T. Hill Barkley J. Taylor Ekeler D. Adams Thanks and good luck to all this year!

Going to go with 3 of these below with one at Flex. Please pick your 3 with rank in order of the 3. Will answer you. Thanks! Brian Hill vs. LV Mostert @ LA Rams Gallman @ Cinci Ekeler @ Buf D. Montgomery @ GB Please pick 3 in confidence order. Thanks and good luck!!

If I knew Wilkins was getting the 75% touch nod over Taylor tonight I would roll with him but anyone have any good feel on this? Due to byes and RB injuries my 2nd RB options is very limited. Thanks!

I'd run with Jackson and Dallas. Think both get lots of reps, catches and both good chances to score. Thanks for answering mine. Good luck!

Down to one of these for my flex in 1/2 point ppr. Tim Patrick- Questionable@ bad Atlanta pass D MeCole Hardman at Car (been fairly hot of late but against pretty good pass D and never know what you'll get from him) Jordan Wilkins-vs. strong Balt run D and not sure if Taylor plays) Wayne Gallman- at WFT and, he's Wayne Gallman (but decent the last two games) Thanks!